Daiwa boat net £24.99
I've come across some solid rugged boat nets in my time but this one has to be on steroids! The net head weighs 2lb 2oz and measures a massive 23 x 26 inches with a drop of 20 inches so there's no problem getting even a personal best '20' safely to the boat.
The head is made from a box section alloy that fits into a substantial and very strong spreader block. The net bag attached to the head is constructed from a rubberised knotless mesh which has become so popular over the last few years and is coloured black each side with a green section running down the centre.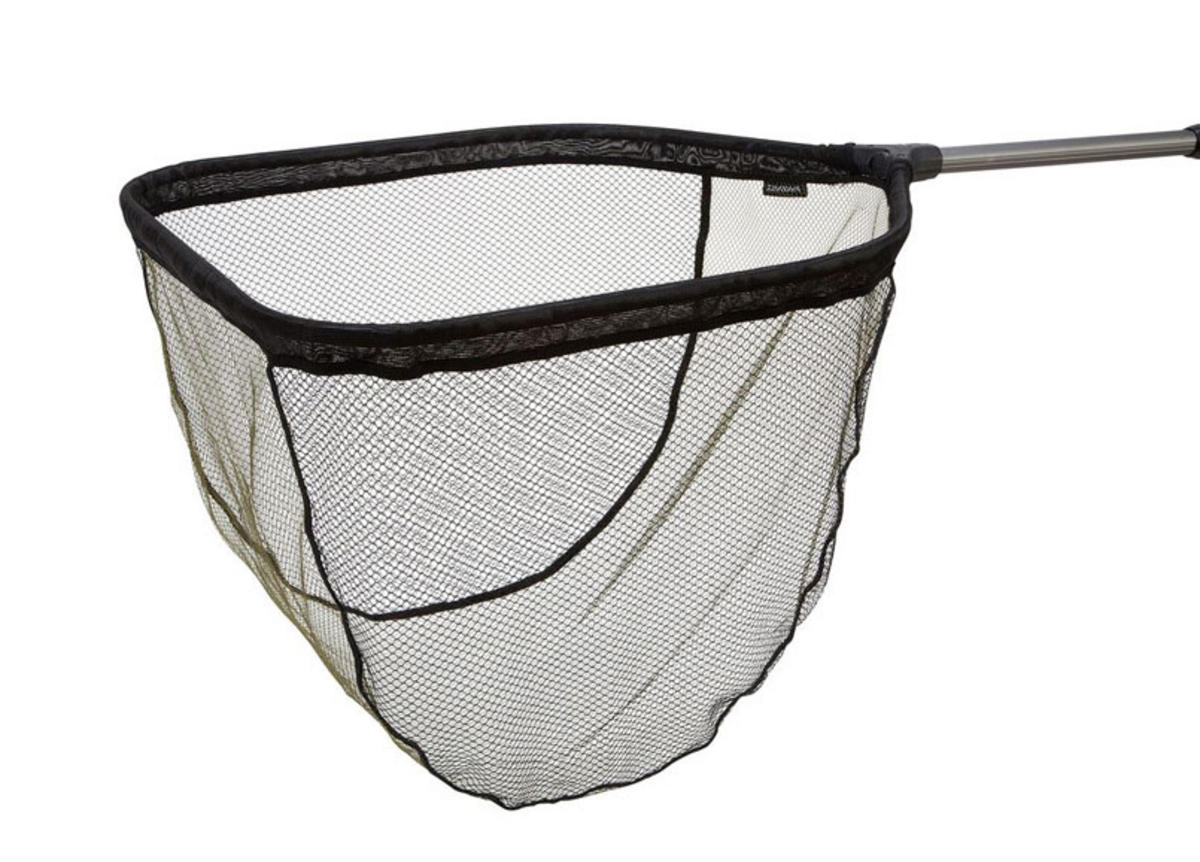 It's a flat bottomed net and because the mesh has some stiffness it makes for an excellent catch-and-release net as it retains its open shape so the fish can be unhooked, allowed to swim around and then released.
The other advantages of this mesh is that it does not absorb smells, one shake and its dry plus your hooks don't get snagged up in it. The head fixes to the alloy handle with a simple push fit and a small sprung-loaded stud which pops up and keeps everything in place.
Fully collapsed the handle is 30 inches in length and it extends to 54 inches and it can be locked off tight anywhere along its length simply by twisting a collar. The overall reach from the front of net to the end of the handle is 82 inches.
On the end of the handle is a rubberised grip. When fully extended and held out at arm's length there's no flex in the handle at all (it has a circumference of 1.25 inches). I wouldn't say it's the lightest net but it is more than manageable and when sat across the gunwales of the boat it is very stable an isn't going to roll off. It is incredibly strong, I think you could even row the boat back to shore with it!
SKB Campbell Baird Hyper Max fly-line £39.99
IRELAND international Campbell Baird is behind a new range of SKB floating fly-lines, available in white in WF3-6 and optic yellow in WF7 to WF8 and I had the WF7 for review.
The line is 105 foot long, made up of a 50.5-foot head length and a running line of 54.5 feet. The first thing I noticed is that the line is very soft and supple and doesn't have the hard, shiny coating that is a feature of many modern lines.
It is a traditional line with a certain amount of stretch and stripping the line onto the ground from the reel for the first time there was no sign of any real memory although I did give it an initial stretch anyway. It took me a little while to get this line going as I did initially think it was 'sticking' in the rod rings.
But, as with any new line, it was just a case of 'knocking the edges off' and once wet it flowed smoothly through the rings. After the initial lift the line loaded the rod smoothly with a good back cast and the line aerialised well and felt very stable.
I was able to produce a tight loop and the shoot on the forward cast was fluid with a well-controlled delivery onto the water. The extended front and longer rear taper really help in achieving good presentation and turnover.
Supreme suppleness
When I was talking to Campbell about this line he said it had been designed with the ability to turn over dry flies and nymphs at range and I think the line does exactly that. Until wet, it certainly doesn't feel as slick as some and Campbell mentioned that he wanted the coating on the fly-line to be slightly softer to give supreme suppleness and virtually no line memory.
That has certainly been achieved. As with any new piece of tackle, once you spend time fishing and casting with it you begin to get the feel for it and that was certainly the case with this line. All the lines come with a Roman Moser Minicon braided loop, one of the best loops on the market being small and streamlined.
VERDICT
With teams of dry flies and even more air-resistant patterns like Daddies, presentation at short and medium range was good and at long range was excellent. The colour was easily tracked across the surface and it did float pretty high in the water which made lifting off and covering fish so much easier.
To know more about hunting and fishing accessories, visit my personal blog at
https://hunting-tips.net/
.